A start-up ambulance service is helping save lives in Mumbai
It's a gruelling job, with Shaikh's daily shifts sometimes stretching 16 hours. Responding to an urgent call demands that his ambulance makes its way through Mumbai's notoriously heavy traffic and narrow streets.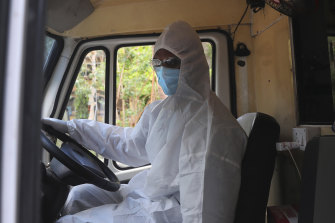 Often the patients he and his two co-workers have to carry by stretcher to their ambulance live in high-rise buildings with no elevators. Mumbai's relentless heat and humidity make the work all the more physically draining.
But "the real ordeal starts when we reach the hospital," Shaikh said.
Sometimes he has to wait up to five hours outside a hospital for intensive care unit beds to free up. Other times he gets yelled at by doctors who blame him and his team for bringing in patients without first checking in with the hospital. Most of the time he ends up shuffling between hospitals before a patient is finally admitted.
"There have been instances when the patient just doesn't survive the long waiting hours," Shaikh said. "Driving a patient who was alive to the hospital and then driving the same patient a few hours later to his burial or cremation is the hardest part."
Loading
As precaution, he burns his protective equipment after transporting a COVID patient.
But sometimes there are good days.
Loading
Only a few weeks ago, he drove an 80-year-old woman who had the coronavirus to a hospital. Once she recovered, it was Shaikh who drove her back home.
He said he was welcomed home that day by his family and neighbours with fanfare.
As his phone buzzed again on a recent evening, he wrote down the details of the caller.
It was time.
Shaikh donned his hazmat suit and climbed up to the ambulance's driver's seat, all set to pick up his next patient.
"I know I'll get there in time," he said, zooming away.
More than 7.86 million people have been reported to be infected by the novel coronavirus globally and 430,501 have died as of Monday morning, according to a Reuters tally.
India has recorded 9195 deaths from 320,922 confirmed cases.
AP
Sign up to our Coronavirus Update newsletter
Get our Coronavirus Update newsletter for the day's crucial developments at a glance, the numbers you need to know and what our readers are saying. Sign up to The Sydney Morning Herald's newsletter here and The Age's here.