Bionomics secures big tech investors for PTSD treatment
For Bionomics, the funding comes after a turbulent two years in which it ran into hurdles with its flagship product. The company has been developing a treatment for those suffering post-traumatic stress disorder, called BNC210. In September 2018 Bionomics revealed its phase 2 trial of the product did not meet its primary endpoint targets to show it was effective, sending the business back to the drawing board.
Between September 2018 and September 2019 shares dropped from 53c to as low as 3c. The company said the formulation of the drug was the problem with its first trial and has since gone back to create a new tablet form that does not have to be taken with food.
Bionomics executive chairman Errol De Souza said he was confident the business could now move forward with new trials for the product.
"My goal is to turn around this company and do right in terms of the shareholders and patients," he said. According to the company's full year financial results released last week, it is still operating at a $7 million loss.
Mr Angermayer said his investment in the business came down to his interest in mental health innovation and the fact that Bionomics was undervalued because of its recent past.
Loading
"I like these kind of turnaround stories. Bionomics was so depressed that it's a very undervalued stock. There's enormous upside if the company wins back trust," he said.
In a statement, Mr Thiel pointed to Mr Angermayer's track record investing in mental health therapies.
"Mental health has emerged as one of the most prevalent medical issues, burdening the lives of millions of people. Christian has been at the forefront of supporting companies like Bionomics pioneering transformative mental health therapies," he said.
Bionomics is going after a large treatment market, particularly in the US where the government estimates around 8 per cent of its population will suffer from PTSD at some point in their lives.
However, the company has some way to go before commercialising its products: the company has fast-track approval from the Food and Drug Administration to develop the product but will still have to undertake new set of trials, starting before the end of this year.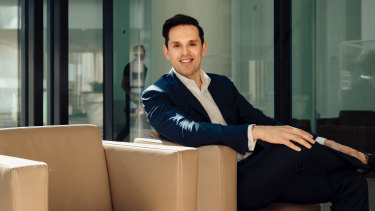 Mr De Souza said he had optimism that the business had learned from its previous unsuccessful trials.
"We developed a whole new formulation with a new team."
Emma reports on healthcare companies for The Age and Sydney Morning Herald. She is based in Melbourne.