Creek turns bright pink as environmental officers investigate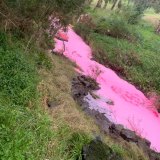 "It looked quite thick and so bright, almost like some kind of soap – but not. It was weird."
She said the pollution had no smell, but it looked "not right and definitely not safe whatever it was".
Something had been placed in the creek, seemingly to catch the pollution and stop it washing downstream. But Ms DeGraft-Hayford said the contaminant was still seeping past.
The EPA was notified about the discolouration on Saturday, a spokesman said.
However, a photo posted on Facebook shows bright pink water was running into Edgars Creek as early as Wednesday this week.
A resident said she spotted the bright pink water on Wednesday"just down from Norfolk Court", not far from where the EPA said the water was affected on Saturday near Adnette Court.
Officers are expected to return to the site to trace the source through the drains.
"EPA officers are investigating the cause of the strange discolouration," the EPA wrote on Facebook.
An alert put out by the authority warned residents to "avoid contact until further notice".
The Coburg North area is filled with industrial warehouses.
Edgars Creek runs 17 kilometres from Wollert through Epping, Thomastown and Reservoir before joining the Merri Creek at Coburg North and is populated with native bird species.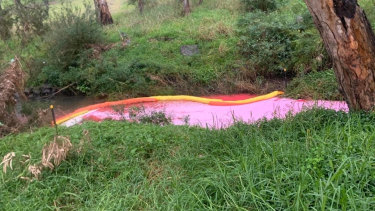 If you see pollution, call 1300 EPA VIC (1300 372 842).
Rachel is a breaking news reporter for The Age.