Mall landlord Vicinity seeks $1.4b as retail woes bite
Most Australian malls stayed open during the pandemic, but with shoppers forced to stay home under lockdown laws, foot traffic and revenue across the sector plummeted.
Loading
Combined with the online retailing juggernaut, the coronavirus is taking no prisoners.
"Stay at home directives and mandatory closure of some retail stores … led to a reduction of foot traffic across Vicinity's portfolio, prompting significant voluntary retail store closures and adversely impacting Vicinity's income," Mr Kelley said.
Landlords are hoping a recent large spike in shoppers flocking back to their centres as restrictions relax around the country will bring some reprieve.
"There are some positive early signs of a recovery," he said.
At the height of lockdown in April, foot traffic plummeted by 50 per cent and just 42 per cent of stores were open. The volume of customers trundling through Vicinty's malls is now at 74 per cent, and the number of open stores has doubled.
The timing of when rental income will stabilise is uncertain and Vicinity said negotiations are continuing with a large number of tenants in relation to short-term variations to their leases.
Vicinity expects rent receipts to improve as stores continue to reopen, foot traffic increases and lease negotiations are completed.
A sharp fall in asset valuations spells trouble for all landlords.
If confirmed in the group's upcoming June end-of-financial-year accounts, it would drive Vicinity's debt levels to the top of its preferred gearing target range, threatening its investment grade credit rating.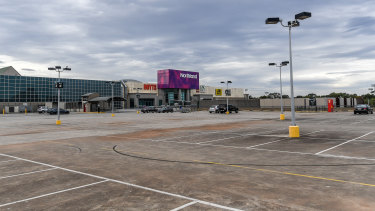 To head off that scenario, the mall manager has tapped inventors to raise $1.2 billion in a fully underwritten institutional placement and a further $200 million via a non-underwritten security purchase plan.
Most of the money will go towards reducing debt, with gearing to fall to the lower end of its preferred target range.
"This equity raising also provides support for the continuation of Vicinity's investment-grade credit ratings," Mr Kelley said.
JP Morgan analysts said they were "surprised" the gearing picture had change so much since December last year. "This has negative sector implications in our view," they said.
A capital raising of that size will seriously dilute Vicinity's stock.
The $1.2 billion offered to institutional investors represented about 22 per cent of securities on issue.
The new securities will be issued at a fixed price of $1.48 per security, an 8.1 per cent discount to the last closing price of $1.61 on 29 May.
Simon Johanson is a business journalist at The Age and The Sydney Morning Herald.