News Corp Binges to ease Foxtel's streaming woes
Foxtel, which is 65 per cent owned by News Corp Australia, is investing substantial amounts of money in streaming services as it attempts to pivot the business away from the traditional set top box. But the streaming products cost less than a traditional Foxtel subscription, reducing the average revenue per user (ARPU) it earns.
News Corp was the most shorted stock on the Australian Securities Exchange as of May 18, according to data compiled by the Australian Securities and Investment Commission. Short positions surged to 15.7 per cent, growth which industry experts said could be linked to significant falls in advertising revenue across the wider News Corp business and suspension of sport caused by the COVID-19 pandemic.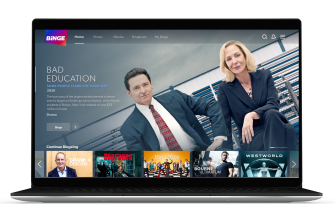 Kayo's subscriber numbers, which included those who received a discount for the service through Telstra, sat at 272,000 paying subscribers as of May 2. Mr Ogrin said he was confident registered users would re-activate their accounts with the commencement of the NRL and AFL in the next few weeks.
Morningstar analyst Brian Han equity analyst said it was easy to be "pessimistic" about News Corp.
"Foxtel is under structural pressures leading to asset value write-downs and leading to all of these streaming initiatives [Binge] – because the core pay TV business is in structural decline, and I think even they would admit that," Mr Han said.
"The second reason is that there is a perennial concern about News Corp's newspaper businesses and they are also under structural pressures, and that's one of the reasons why News Corp is hellbent on giving people more transparency about the crown jewel in terms of Dow Jones and the Wall Street Journal, because they want people to focus on those instead of all the other ones [businesses] which are struggling.
Loading
"At the end of the day, News Corp is an advertising-dependent company and advertising in turn ultimately hinges on consumer confidence and business sentiment, and those are two qualities in short supply at the moment."
News Corp wrote down $1.4 billion in Foxtel related to goodwill and intangible assets earlier this month. But television sources said Foxtel's investment in Binge is likely to be smaller to the money it put into Kayo when it launched in November 2018. While Foxtel landed a multi-million dollar contract with US entertainment giant WarnerMedia two weeks ago and has a number of large content deals in place, it does not have the added cost of building the product.
Mr Ogrin said there are synergies between the two platforms.
"While the focus was on Kayo for the last 12 months, we always had the view that the platform could be a shared service to an entertainment product," he said.
Zoe Samios is a media and telecommunications reporter at The Sydney Morning Herald and The Age.