The 25 Best Live Aquarium Plants of 2020
If you enjoy keeping fish, you might be interested in also keeping live aquarium plants. Real plants add visual appeal to your fish tank, but even more importantly, they produce oxygen that your fish need while absorbing some of the carbon dioxide and ammonia that your fish produce. There is a wide variety of plants available for aquariums, so it can be hard to choose exactly what you want for your fish aquarium.
We have looked at dozens of live aquarium plants to provide you with a list of the best. We looked at different types, how much they cost, and how Amazon reviewers liked them once they added them to their own aquariums. If you are looking for other types of ideas for your fish tank, you won't want to miss our piece on the best aquarium decor.
Our top pick went to the Java Moss Stone Pad. This is a plant that is extremely easy to grow and maintain. You don't need to worry about lighting; just place it in any freshwater aquarium. Best of all, it will spread easily, so your small investment will literally grow as time goes on.
The 5 Top-Rated Live Aquarium Plants
* Ratings are from Amazon at the time of publication and can change
Best Live Aquarium Plant Overall: Java Moss Stone Pad
Overall, our top choice is the Java Moss Stone Pad. Whether you consider yourself someone who has a green thumb or you consistently kill every plant you own, you won't go wrong with this easy-to-maintain aquarium plant. Simply attach the plant to rocks, wood, or any other ornament you have in your tank with cotton thread or fishing line. Once it becomes established, it will begin spreading and creating a lush place for your fish to hide and breed.
This java moss is a three-pack, but there are other quantities available, too. Each piece is 1.5 x 2 inches and it comes with a "live arrival" guarantee, so you will get three pieces of java moss that are ready to be placed in your tank. It will grow to help keep your shrimp, betta fish, or any other freshwater fish happy and healthy by providing security and absorbing carbon dioxide and ammonia. It looks nice, too, and is a great alternative to fake aquarium plants.
Java Moss Stone Pad Key Features:
Comes in a three-pack (as well as in other quantities)
Easy to grow and maintain
Can be used in any freshwater tank
Absorbs ammonia and carbon dioxide
Does not need special lighting
Best Guppy Grass: SunGrow Aquarium Grass Seeds
If you are looking for guppy grass, our top pick is SunGrow Aquarium Grass Seeds. Guppy grass allows baby fish to have a hiding place, so if your fish are breeding, it's an essential part of their environment. This grass seed will grow quickly and easily, making it ideal for beginners and experienced fish-keepers alike.
This grass is bright green and can reach heights of about a foot tall, so it does best in large freshwater fish tanks. It will grow fast, so your tank will stay cleaner; it removes nitrates from the water, keeping your fish healthier. It does a great job providing lots of coverage for eggs and babies, so you'll see your fish family grow right along with the plant! Best of all, this grass will spread quickly, so if you start off with sparse planting, it will soon fill in and look great.
SunGrow Aquarium Grass Seeds Key Features:
Bright green in color
Provides hiding spots for baby fish
Absorbs nitrates and CO2
Grows and spreads quickly and easily
Perfect for large freshwater tanks
Best Budget Live Aquarium Plant: SunGrow Indian Almond Leaves
For those wishing to get the biggest bang for their buck, our budget-friendly top spot goes to SunGrow Indian Almond Leaves. These are catappa leaves, and they provide a natural environment for your tropical fish, guppies, snails, and more. To use, simply add five leaves to a 10-gallon tank and check the pH level each day. You can add more leaves as needed until the water is at the proper pH. The tannins released will boost your fish's immunity level and make them happier and healthier.
This is a package of 50 small leaves. You can also purchase packages of larger leaves if desired. Particularly if you have a small tank, the smaller leaves will help your fish adjust to the tannins in the water over time. They also add beauty and visual appeal to the tank.
SunGrow Indian Almond Leaves Key Features:
Package of 50 small catappa leaves
Add tannins to the water
Boost your fish's immunity
Optimize the pH levels of the water
Best Aquarium Moss Balls: Aquatic Arts 6 Marimo Moss Ball Variety Pack
The 6 Marimo Moss Ball Variety Pack made our top pick for aquarium moss balls. Marimo moss balls float around in the water, improving its quality and creating biofilm for shrimp and other small fish to nibble on. These particular moss balls go through a three-step quality control process to ensure their high quality. They contain no dyes, pesticides, or contaminants and are a safe way to add fresh aquarium plants to your fish tank.
Even if you don't have fish, marimo balls can be placed in a jar or vase of water. Fun fact: In Japan, they're often considered a "pet" of sorts and are given as a token of love. Because they are so easy to care for, anyone with a freshwater tank should be able to succeed in keeping them alive to beautify their aquarium. Interested in learning more about moss balls? Check out our review of the best moss balls for aquariums.
6 Marimo Moss Ball Variety Pack Key Features:
Highest ratings for marimo on Amazon
Remove nitrogen and phosphate from the water
Provide oxygen for fish and other water creatures
Roll in your palms every two weeks to maintain shape
Require no other care
Best Live Aquarium Plants Bundle: Bonsai Lotus Seeds and Water Lily
There are many aquarium plant bundles available, and the one that caught our eye is the Bonsai Lotus Seeds and Water Lily 20-piece set. These can be planted in indoor and outdoor aquariums and ponds, giving you the maximum versatility for a low price. They do require 4 to 6 hours of sunlight per day, so if you are keeping them in an indoor aquarium, you'll want to be sure that they have access to sun.
You can either add nutrients to the water or you can transplant them to soil later. They should do well in a heated fish tank, and will grow into either lotus or water lilies. The water lilies will float on top of the water. Either way, these blooms make a gorgeous addition to your fish tank and will provide a lot of visual appeal along with helping to keep the environment optimal for your fish.
Bonsai Lotus Seeds and Water Lily Key Features:
Contains 20 pre-cracked seeds
Contains directions for germinating and planting
Help to keep the water clean
Can be used indoors or outdoors
Require sunlight each day
Do best in a heated fish tank
Who Should Buy Live Aquarium Plants
If you have a fish tank, you might consider purchasing live aquarium plants. If your fish are mating and having babies, plants, particularly guppy grass, can give them a place to hide and remain safe from being eaten by the other fish. Plants also give fish a safe place to lay eggs. In addition, live aquarium plants help to improve the water quality by removing nitrogen and ammonia from the water, absorbing carbon dioxide, and producing oxygen, which all fish, shrimp, and other aquarium-dwellers need.
You might even want live aquarium plants if you don't have fish. Some can be kept in a jar or vase, and some can go in an outdoor pond. If you like plants, consider aquarium plants to add beauty and interest to your fish tank or other places in or around your home.
Important Features to Consider
Live aquarium plants should have a few important features. Here's what to look for as you decide on the best plants for your aquarium.
Type of plant. Those with breeder tanks might look for guppy grass, and someone who is looking for a plant to keep in a vase might look for a moss ball. Think about your needs and what type of plant will meet them.
Type of aquarium you have. Some plants will need sunlight, and others might need a heated tank. Some plants are better for freshwater aquariums and others are designed to grow in saltwater. Match up the type of plant you want with the type of aquarium you have.
Your preferences. Do you prefer something colorful and bright, or do you like the look of a monochromatic tank? How much care are you willing to invest in your plants? Think about what you want from your plants and look for something that you will enjoy.
Frequently Asked Questions
Are live plants good for fish tanks?
Yes. Live plants give fish places to hide, and they also remove harmful substances (carbon dioxide and nitrates, along with other things) from the water while producing oxygen that your fish need to breathe. In addition, they can help you enjoy your fish tank more.
How much do aquarium plants cost?
This will vary based on the type of plants you choose. Moss balls are relatively inexpensive, while bundles of different types of plants might be on the more expensive side. Do a cost analysis to determine how many plants you will get the for the cost listed; you might save money if you buy a larger quantity, for example.
How do you take care of aquarium plants?
This depends on the type of plant. For most, you don't need to do much of anything to care for your plants. You should keep the water clean, just like you do for your fish. A few types will require sunlight or heated water, but most do not. Read the directions carefully before adding your plants to your fish tank.
Can dying plants kill fish?
Yes, dying or dead plants can begin to decompose and add nitrate and other harmful substances to the water. This can make fish sick or even kill them. If you see that your plants are dying, remove them right away.
Other Live Aquarium Plants We Reviewed
In addition to the plants that made our top 5 list, we also reviewed 20 other plants and plant bundles. While these didn't earn a spot at the top of our list, they are still great options to consider for your aquarium.
Guppy Grass
This grass is easy to grow: Simply rinse it off, cut it into sections, and plant in your aquarium's substrate. It will grow and spread, creating a carpet for your fish.
Key Features:
Low maintenance
Grown in vitro
Professionally inspected
Cost: $17
This is a cup of seeds that will help your aquarium flourish. Fish use guppy grass to hide and breed in, making it an important part of your little biome.
Key Features:
Contains a cup of seeds
Multiplies and fills in
Removes nitrates from the water
Cost: $40
This contains six clipped plants that will grow quickly to fill the bottom of your tank with grass. You will have a healthy cover within a few weeks.
Key Features:
Contains six plants
No maintenance
Removes nitrates from the water
Cost: $30
This packet of seeds will grow quickly, covering the bottom of your tank. The seeds will germinate within a few days and you should see good growth after a week.
Key Features:
Helps maintain the cleanliness of the tank
Contains one packet of tiny seeds
Will grow in sand, gravel, or substrate
Aquarium Moss
This comes as a cup of seeds that will rapidly turn your fish aquarium into a mossy paradise. It will attach to substrate, wood, rocks, or any other surface you have in the tank.
Key Features:
Can be used in any size tank
Easy to grow
Will spread quickly
Cost: $17
This moss will green up once it's planted. It comes in a four-ounce cup and will start off just two inches in diameter, but it will grow and fill in fast!
Key Features:
Four-ounce cup
Will get greener once planted
Avoid ordering when temps are below 20F or above 100F
Cost: $5
Live Aquarium Plants JAVA Moss
Create a natural ecosystem in your aquarium with this densely spreading moss. This product comes with one cup of moss that should be spread out in the tank for optimal growth.
Key Features:
Does not require special lighting
Can be used in any freshwater tank
Provides a hiding place for fish
Cost: $15
Watch your fish interact with these moss balls! These are all about a half-inch in diameter, making them the perfect companions for betta and other small fish.
Key Features:
Help keep the tank clean
Fish will play with the balls
Squeeze them out when you change the water
Cost: $9
This moss is attached to flexible mesh. It creates a soft carpet for your fish, and it will continue to grow as it feeds on your fish's waste. Can be cut apart for smaller tanks.
Key Features:
Measures 3.5 x 2 inches
Will spread out along the bottom of your tank
Keeps the water cleaner
Cost: $7
This is live moss that is shipped in a cup and ready to plant in your aquarium. It will spread as it grows, giving your fish a place to hide and keeping the water cleaner and fresher.
Key Features:
Comes with a 7-day guarantee
Includes a free heat or ice pack for shipping
Comes in a 2″ cup
Aquarium Plants Bundles
12 Species Live Aquarium Plants Package
This set includes 12 different species; you receive several stems of each species. It's best to put these in a 10-gallon aquarium (or larger) so they all have room to grow.
Key Features:
Provides hiding and breeding places
Species include moneywort, red flame sword, anacharis, and more
Maintains high water quality
Cost: $35
Florida 10 Species Live Aquarium Plants Bundle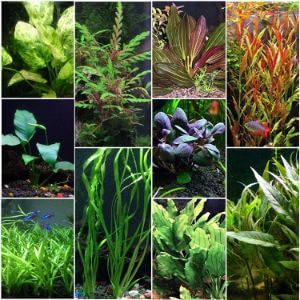 Most of these plants will grow to between 6 and 12 inches in height. Create a natural utopia for your fish in your tank that is at least 10 gallons!
Key Features:
Keep your fish healthier
Provide hiding places for fish
Species include marble queen, red melon sword, and telenthera
Cost: $30
Mainam 30+ Stems Package Beginner Set
This is a set of six species (several stems of each) that are easy to grow and maintain for beginners. You'll get a good variety for interest and experimentation.
Key Features:
Comes with a 3-day live plant guarantee
Absorbs carbon dioxide in the tank
Species include micro sword, java fern, java moss, and more
Cost: $40
Rooted Live Aquarium Plant Bundle
Your fish will become less aggressive and stressed when they have plants such as the ones in this bundle. It contains six species that will provide color to your tank.
Key Features:
Just add gravel and light
Will become more colorful once acclimated to the tank
Species include anubias, java fern, golden melon sword, and more
Cost: $30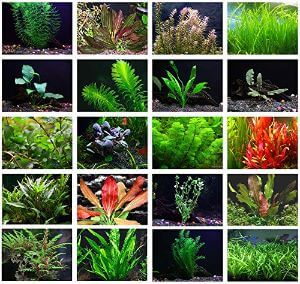 In this bundle, you will get 20 species, one plant of each. These plants will add color and interest to your aquarium, and they'll also be ready to give you fish hiding and playing places.
Key Features:
Order when temperatures are between 20 and 100 degrees
You'll get 20 live plants of different species
Species include kleiner bar, cabomba, ruffle sword, and more
Other Types of Aquarium Plants
AquaLeaf Aquatics Alternanthera Reineckii
This gorgeous red plant known as telanthera will brighten up your aquarium and stand out against the greenery you already have in there.
Key Features:
Turns red after being exposed to carbon dioxide
Adds color to your tank
Provides hiding spaces
Cost: $5
This is a plug of moneywort plants that you can anchor or allow to float in your aquarium. They will take a couple of days to acclimate, then will begin pointing up if you anchor them to the bottom of the tank.
Key Features:
Several stems in one plug
Can be anchored to allowed to float
Will give you fish a place to hide
Cost: $10
This is one young java fern plant measuring up to 6 inches in height. It will anchor to the bottom of the tank or attach easily to driftwood, rocks, or other materials.
Key Features:
Contains one live plant
Good for large and small aquariums
Provides natural resting places for your fish
Cost: $4
Mainam Echinodorus Parviflorus Rosette
This is an Amazon sword plant, which is perfect for fishkeepers who have a bit more experience with growing and maintaining aquarium plants.
Key Features:
Contains one bundle of plants
Three-day live guarantee
Improves water quality
Cost: $11
Staurogyne Repens Tissue Cultured
This is an attractive floor covering for your aquarium. It will spread over time and create a lush carpet that is perfect for your fish to hide and rest in.
Key Features:
Propagates easily on gravel and substrate
This is a foreground plant for aquariums
Will spread to create a carpet
Cost: $6
Products You May Be Interested In: