The 25 Best Orthopedic Dog Beds of 2020
Just like humans, dogs need night after night of restful sleep to maintain optimal health. As you may already be aware, ensuring your dog regularly gets an adequate amount of zzz's is easier said than done. While you may have tried to set a sleep schedule for your dog and provided them with a comfortable dog bed cover to rest on top of, if their bed is not designed for maximum comfort it's no wonder why they're not getting the best quality sleep. It's particularly important to buy the right bed for your dog  if they suffer from ailments such as arthritis, achy joints, general body aches, and/or hip dysplasia. If you're looking for a dog bed that is made for the very purpose of supporting your dog to have a relaxing, comfortable, and rehabilitative night of sleep, look no further than orthopedic dog beds.
We reviewed dozens of orthopedic dog beds to identify the best of the best, based on Amazon reviews, quality of ingredients, cost, and other factors.
We've identified the Brindle Waterproof Designer Memory Foam Pet Bed as the ideal choice for anyone on the hunt for an orthopedic dog bed that ticks all the boxes. It's our top pick because it not only provides relief to your dog's aches and pains, it also boasts a host of other features such as a 100% waterproof encasement and super soft material. If you're ready to learn more about this product and our other expert picks, read on.
The 5 Top-Rated Orthopedic Dog Beds
*Ratings are from Amazon at the time of publication and can change
Best Orthopedic Dog Bed Overall: Brindle Waterproof Designer Memory Foam Pet Bed
If you're looking for an orthopedic dog bed that has a seemingly endless list of attributes, it's hard to beat the Brindle Waterproof Designer Memory Foam Pet Bed. This dog bed is a favorite among dog owners due to the unparalleled comfort it offers. Featuring four inches of durable foam, the bed stands out among the competition for its unique offering of both comfort memory and half high-density support foam.
To be specific, the two inches of memory foam molds to your dog's contours to offer maximum relief from pressure points, while the two inches of high-density base foam provides the perfect amount of support throughout the night.
Customers love the fact that this bed comes in an ample choice of colors and sizes for maximum customization. They also appreciate that the velour cover is designed to resist dirt and hair and can be removed and machine washed in a breeze. What's more, the natural hypoallergenic properties make the bed the perfect pick for any dogs who suffer from allergies or other sensitivities.
Brindle Waterproof Designer Memory Key Features:
100% waterproof encasement underneath the fabric cover
4 inch thick bed; half comfort memory and half high-density support foam
Soft, supportive consistency helps to relieve achy joints, arthritis and hip dysplasia
Naturally hypoallergenic and resistant to dust mites
3-year warranty
Best Orthopedic Bed With Gel Memory Foam: BarkBox Gel Memory Foam Dog Bed
It's not hard to see why the BarkBox Gel Memory Foam Dog Bed comes a close second in our review of the best orthopedic dog beds on the market. BarkBox's offering has an average rating of 4.3 out of 5 stars from around 3000 happy customers who have seen for themselves just how beneficial the bed's therapeutic gel memory foam is for their dogs.
With its three inches of genuine solid memory foam, it's perfect for relieving your dog's body aches, joint pain, hip dysplasia, and arthritis. The top of the bed is layered with temperature gel memory foam to help keep pups cool and comfortable. The bed's cover is water-resistant and machine washable to help keep the memory foam dry and keep the bed looking and smelling fresh. Notably, Barkbox's bed also has a great price point compared to many other options.
BarkBox Memory Foam Dog Bed Key Features:
Made of therapeutic gel memory foam designed to offer optimal therapeutic support
Waterproof and machine washable cover
Available in 4 sizes: small, medium, large, and extra large
Affordable price point
Comes in a variety of colors
Best Budget Orthopedic Dog Bed: Furhaven Pet Dog Bed
The Furhaven Pet Dog Bed is a budget buy that doesn't skimp on useful features. We especially love the enhanced accessibility the bed's 'step-on design' provides dogs of all sizes and physical conditions. Finally, they will be able to say (or rather, bark!) goodbye to their days of struggling to get on and off their bed. They will also enjoy the generous space provided by the bed's open sleep surface design.
Furhaven's bed also carries a CertiPUR-US seal, which means that it has been independently tested to comply with high standards regarding content, emissions, and durability. If that wasn't enough, the foam is 100% manufactured in the USA and free of PDBEs, TDCPP, and TCEP flame retardants, as well as mercury, lead, and formaldehyde.
Beyond these practical features, we were taken with the sheer number of different designs to choose from. For example, if you're after a block color design, you may wish to opt for Convertible Marine Blue or Convertible Sand. While if you're after a more eye-catching design, Southwest Espresso or Twilight Blue may take your fancy.
Furhaven Pet Dog Bed Key Features:
An open design that provides your dog with ample space to relax
Plush faux fur lining on the top of the mattress base
Designed to help to evenly distribute body weight
Comes in three different colors
Available in small, medium, large, jumbo, and jumbo plus sizes
Best Round Orthopedic Dog Bed: Best Friends by Sheri Vegan Fur Donut Cuddle
On the hunt for the best round orthopedic dog bed? We highly recommend the Best Friends by Sheri Vegan Fur Donut Cuddler as your go-to choice. As the brand describes, the faux shag fur thatcovers the exterior of bed boasts comfort and luxury in equal doses. Your dog will know precisely what both feel like after they rest their head on the bed's orthopedic bolstered edge and snuggle into its fluffy and warm embrace
The donut shape of the bed is great for dogs who curl up or who tend to get cold at night. We also love the peace of mind that comes with the fact that the bed is made from vegan, pet-safe materials that are durable enough to be tossed into the washing machine and dryer time after time.
Best Friends by Sheri Calming Shag Vegan Fur Donut Cuddler Key Features:
Unique round design
Faux shag fur exterior
Fully removable shell
Washing machine and dryer safe
Made with pet-safe materials
Best Waterproof Orthopedic Dog Bed: Milliard Premium Orthopedic Memory Foam Dog Bed
Waterproof properties in orthopedic beds are not a given, so it's important to choose a bed designed with this feature in mind. Our pick of the bunch is the Milliard Premium Orthopedic Memory Foam Dog Bed. As customers have excitedly commented, the bed is genuinely waterproof, meaning that you won't need to worry if your pooch has a little accident during the night. While bed wetting is usually associated with untrained puppies, the likelihood that your dog will wet the bed also increases with age. Investing in a waterproof bed now will ensure you're prepared if an unexpected 'surprise' is left for you to deal with.
The Milliard Premium Orthopedic Memory Foam Dog Bed isn't only fantastic because of its waterproof properties, however. The bed features two layers of memory foam and polyurethane foam that provides your dog with a comforting medium-firm feeling. Due to the high-quality of the materials used, you'll be able to use this bed for many years to come without it ever flattening.
Milliard Premium Orthopedic Memory Foam Dog Bed Key Features:
Composed of two layers of high quality dense foam
Manufactured with high-quality materials that won't flatten over time
Comes complete with an anti-microbial and waterproof cover
The cover features non-slip dots on the underside
Who Should Buy an Orthopedic Dog Bed
If you're wondering whether it's worth making the switch to an orthopedic dog bed, ask yourself if your dog could benefit from the upgrade. As we touched on above, dog beds are designed in such a way that provides additional sleeping support to dogs who suffer from conditions such as arthritis, hip dysplasia, achy joints, and/or general body aches. Older dogs will also appreciate the optimized comfort these beds offer over other, simpler styles of bed.
Even if your dog is in tip-top health, an orthopedic bed may not only help them fall asleep faster, but also aid them get a more restful night's sleep. After all, wouldn't you sleep better on an orthopedic bed compared to a non-orthopedic one? Your dog's health is no doubt a top priority, so it makes sense to provide them with the means to start getting the best sleep a four-legged friend could hope for.
Important Features to Consider
While the orthopedic dog bed market has boomed in recent years, unfortunately, not all of the offerings on the market are worth considering. The good news is that there's any easy way to separate the worthwhile options from the pack: look for certain key features. Here are the most important features to keep in mind while you're on the hunt for the perfect orthopedic dog bed.
The materials used. As you'll soon come to discover, orthopedic dog beds can vary quite substantially in the materials they use. The majority use memory foam to provide orthopedic support, although others use alternative materials such as polyfil. Memory foam is well-known for its orthopedic qualities in both humans and pets, so it's a go-to option if you're unsure of what material is best.
Thickness. Orthopedic dog beds are generally quite thick, averaging around 4 inches of thickness. As a rule of thumb, it's best to avoid beds on the thinner side, as these won't be as comfortable for your dog. If a bed is too thin, your dog will be able to feel the hard (and cold!) surface of your floor. This is particularly problematic for dogs with joint issues, so it's best be on the safe side and seek thicker options.
Machine-Washable. While orthopedic dog beds themselves are rarely machine-washable, many do come with machine-washable liners. Opting for a bed with a machine-washable liner will help your bed stay in tip-top shape, and ensure odors are kept at bay.
Waterproof. If your dog is prone to accidents or is coming into old age, it may be worth investing in a waterproof bed. Most beds offer waterproof qualities by way of a waterproof liner, which works to protect your bed's mattress from soiling or moisture. Many waterproof options tend to be pricier than non-waterproof ones, but it may be worth it to ensure your bed stands the test of time.
Warranty. Many dog beds offer limited or complete warranty, which is an attractive feature for the peace of mind it offers. After all, we don't know how the bed will hold up with our dog, or whether they will even like it at all. Just be sure to carefully read the terms and conditions!
Frequently Asked Questions
What is an orthopedic dog bed?
It makes sense to know what you're getting before you make a purchase, so it's important that you're clear about what exactly this particular type of dog bed is in the first place. An orthopedic dog bed is a bed that is specifically designed to provide support to your dog's body and joints.
These beds offer orthopedic qualities in every facet of their design, such as the material used, and the size and shape of the bed. Memory foam is the material most commonly found in orthopedic dog beds, but it is not a necessity for a bed to be considered orthopedic.
Are orthopedic beds good for dogs?
So long as you choose the right orthopedic bed for your dog, they will be able to reap a number of health benefits from sleeping on one. Unlike non-orthopedic beds, which tend not to prioritize comfort and support for painful pressure points, orthopedic beds are constructed in such a way which molds to your dog's body so their joints get the support they need.
As your dog will feel more relaxed and comfortable with the high level of support these beds provide,  they will be less prone to waking up or tossing and turning due to painful joints. As such, there is a high likelihood they will get a better night's sleep than on a non-orthopedic bed.
How do you wash an orthopedic dog bed? 
How you should wash an orthopedic dog bed will depend on the instructions provided by each bed manufacturer. That being said, most orthopedic dog beds themselves cannot be washed. Instead, you may be able to wash the bed cover. Usually, you can wash the bed cover simply by putting it in the washing machine. For best results, follow any washing instructions stated on the bed's label or box.
How often should I replace a dog bed?
How often you should replace your dog bed will depend on two main factors:
Does your dog still enjoy sleeping in the bed? If you've noticed that they seek out other surfaces to sleep on instead or seem uncomfortable while resting in it, you should consider replacing it.
Does the bed seem to be in good shape? If the bed is no longer retaining its shape or it looks tired and worn, these are good indications that it's well past its prime. It's vital to check that the cushioning in your orthopedic bed is still in good condition, otherwise, your dog will not be able to receive the orthopedic support they need.
Other Orthopedic Dog Beds We Reviewed
We looked at 20 other orthopedic beds for dogs. Even though they didn't make our 5 best orthopedic beds for dog list, they're the best of the rest and each is still a great option for your dog. The information you'll need to compare each one is included with the listing.
Best Small Orthopedic Dog Beds
Precision Pet SnooZZy Mod Chic
A round orthopedic bed with comfy cushioned sides, the Precision Pet SnooZZy Mod Chic is perfectly suited for smaller dogs. Coming in at 21 inches in size and featuring a skid-proof bottom and luxurious plush material, the only problem you'll encounter is trying to convince your dog to leave it!
Want to see a wider variety of beds for smaller dogs? Our Best Small Dog Beds list is a must-read!
Key Features:
Soft, plush fabric
Machine-washable
Non-skid bottom
Cost: $20
K&H Pet Products Ortho Bolster Sleeper Orthopedic Dog Bed
K&H Pet Products' 20 inch bed may be small in size but it's certainly not lacking in features. The bed uniquely boasts  medical grade orthopedic foam complete with a bolster filled with premium polyfil made from recycled bottles. It's also super easy to wash, making it an all-round winner for small dogs.
Key Features:
Medical grade orthopedic foam
1-year limited warranty
Removable and washable cover
Cost: $36
JOYELF Orthopedic Dog Bed Memory Foam Pet Bed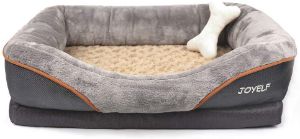 It's clear that JOYELF's designers focused on creating a bed that is both stylish and highly functional for smaller dogs. We love the many thoughtful features in the design, such as the memory foam's flame-retardant material and the rubber particles at the bottom of the bed to prevent slipping.
Key Features:
Removable, machine-washable cover
Bottom is lined with rubber particles to prevent slipping
Internal liner protects from liquids
Cost: $40
The Dog's Bed Orthopedic Dog Bed
The bolsters surrounding most of this bed provide a sense of security your dog may be seeking. In the words of the manufacturer, they appeal to "your dog's nesting instinct", making this incredibly soft bed all the more enticing for your four-legged friend.
Key Features:
A plush cover that acts like a soft blanket
Comes with a waterproof mattress protector
Quick-drying washable cover
Cost: $50
It's hard to beat the low price point of this 4-star bed designed for tiny dogs. If you're looking for an orthopedic bed that you can get for pocket change, you won't be disappointed with MidWest's offering, which has a cushioned poly/cotton base and comfortable polyester-filled bolsters.
Key Features:
Ultra-soft synthetic fur
Can be placed in a dog crate
1 year manufacturer's warranty
Cost: $6
Best Large Orthopedic Dog Beds
URPOWER Orthopedic Memory Foam Dog Bed
Unlike many other options on the market, URPOWER's bed has an enviably large surface area for your larger dog to stretch out in. We're talking a 28 inches x 36 inches surface space made up of 4 inches of premium memory foam, so you won't need to worry about your pooch cramping their already achy joints to try to find a comfortable sleeping position.
Key Features:
Larger sleep surface than average
Foam-Padded Bolster
Easy to clean
Cost: $80
If you're looking for more large dog beds to choose from check out Best Large Dog Beds list!
Dogbed4less Premium Memory Foam Dog Bed
Your dog's body is unique, so it makes sense to select a bed that recognizes this. We love the fact that Dogbed4less's gel memory foam bed comes in six larger sizes: medium large (37″ x 27″ x 4″), large (41″ x 27″ x 4″), extra large (40″ x 35″ x 4″), extra large (47″ x 29″ x 4″), XXL (55″ x 37″ 4″), and jumbo (55″ x 47″ x 4″).
Key Features:
A range of larger sizes
Gel memory foam
Comes with two external covers
Cost: From $73 (dependent on size)
Go Pet Club Solid Memory Foam Orthopedic Pet Bed
Two layers of protective covering will ensure this bed stays clean and in tip-top shape. It also won't flatten over time, so you trust that it will look as good as the day you bought it in years to come.
Key Features:
Comes in four color choices
Non-allergenic
Won't flatten over time
Cost: $44
UFBemo Orthopedic Large Dog Bed
This poly-fill bolster bed by UFBEMO stars a high-quality human-grade orthopedic PP cotton that is the definition of comfort. It also has padded walls to support your dog's head and neck.
Key Features:
Waterproof liner
Premium polyester fill
Limited 1-year warranty
Cost: $59
Sealy Lux Quad Layer Orthopedic Dog Bed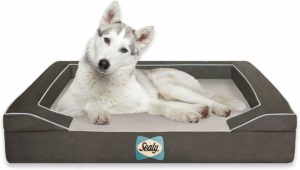 If you're on the look out for a higher-end orthopedic bed for your larger dog, the Sealy Lux Quad Layer Orthopedic Dog Bed is it. Some eye-catching features include the cooling energy gel, which regulates your dog's body temperature Pro-Charcoal HD Foam Base, which offers an extra layer of support and acts as an odor-reducer.
Key Features:
Hidden zippers
Machine-washable cover
Non-slip bottom
Cost: $157
Best Memory Foam Orthopedic Dog Beds
Petsure Orthopedic Memory Foam Dog Bed
If you think this 4.4 star rated bed looks comfy, wait until you hear its features. The 2.5 inch thick memory foam base is sturdy enough that it won't flatten to offer your dog comprehensive support. What's more, its outer cover is made from faux linen fabric that not only won't stain, but also won't have problems with fur sticking to it.
Key Features:
2.5 inch thick memory foam base
Fluffy cloud sherpa interior
Life-time free customer service
Cost: $63
Sterling Premium Comfort Pet Bed
As the creators of this premium dog bed describe, it boasts a gel memory foam that offers "cooling, comfort and relief." The patented design is a must-buy for those after an attractive and functional therapeutic bed for their pooch.
Key Features:
Therapeutic gel memory foam
Soft plush fabric
Filled in the USA
Cost: $67
LOAOL 4″ Durable Waterproof Memory Foam Pet Bed
The 4 inch medical grade, active charcoal memory foam base in this bed is dense enough that your dog won't ever experience the discomfort of feeling to sunken in. It's designed to contour to your dog's body so falling asleep won't ever be an issue.
Key Features:
Medical grade firm memory foam
Comes completely pre-loaded
1-year warranty
Cost: $90
Pet Support Systems Orthopedic Memory Foam Dog Bed
With 4 lb of medical-grade memory foam, Pet Support System's dog bed is 5 x denser than many other orthopedic dog beds on the market. The USA-made bed is made with premium certified Certi-Pur Foam, the industry standard for safe and durable memory foam.
Key Features:
4 lb of medical-grade memory foam
5 x denser than many other offerings
Made in the USA
Cost: $120
PETMAKER Orthopedic Memory Foam Pet Bed with Bolster
Does three types of memory foam in your dog bed sound good to you? If so, you'll be interested to learn that PETMAKER's bed features 1″ of memory foam, 1″ of cooling gel memory foam, and 3 inches of orthopedic memory foam. If that wasn't enticing enough, it also includes a shredded memory foam bolster that's fully removable.
Key Features:
Shredded memory foam bolster
Easy cover removal
Non-skid bottom
Cost: $59
Best Waterproof Orthopedic Dog Beds
Better World Pets Orthopedic Dog Bed
Better World's dog bed is one of the most durable waterproof orthopedic beds you can buy. It features a tightly woven polyester cover lined with waterproof polyurethane for maximum protection from accidents. We also love the fact that they donate 10% of their profits to the Humane Society of the United States.
Key Features:
Lined with waterproof polyurethane
100% shredded memory-foam fill
1-year money-back guarantee
Cost: $36
Laifug Orthopedic Memory Foam Dog Bed
Not only is this orthopedic bed's cover water-resistant, it's also tear-resistant to boot. Customers have  commented on the high quality of Laifug's offering, as well the fact that it's very easy to clean.
Key Features:
Water-resistant and tear-resistant cover
Carved plush center
Wrap-around gusset
Cost: $90
Petsbao Premium Orthopedic Dog Bed
Any dog owner in need of heavy-duty protection against any accidents will be highly satisfied with Petsbao's product. The furniture-grade waterproof liner is made for this very purpose, and is housed beneath the memory foam's stain-resistant protective cover.
Key Features: 
Furniture-grade waterproof liner
2.4″ high density memory foam
Minimalist, sleek design
Cost: $59
eLuxurySupply Orthopedic Memory Foam Pet Bed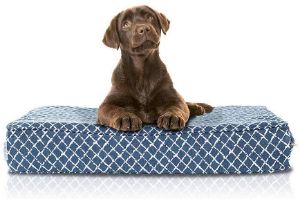 Imagine if urine accidents simply beaded up on the surface of your dog's bed. Imagine no more: this bed's Livesmart technology does exactly that! We also can't look past the gorgeous array of five striking color and pattern combinations to choose from, with Maxwell Ebony being our favorite.
Key Features:
100 % waterproof encasement
Gel memory foam
Livesmart technology
Cost: $95
KOPEKS 6-inch Thick High Grade Orthopedic Memory Foam
If you want to splash out for a waterproof orthopedic dog bed with all the bells and whistles, you can't look past KOPEKS' bed. It has two water-resistant zippered covers that will protect it even from the biggest of messes. Moreover, it uses the same memory foam used in high-end mattresses, so your dog is in for a true pampering.
Key Features:
100% orthopedic-grade memory foam
Hypoallergenic
Cost: $150
Products You May Be Interested In: